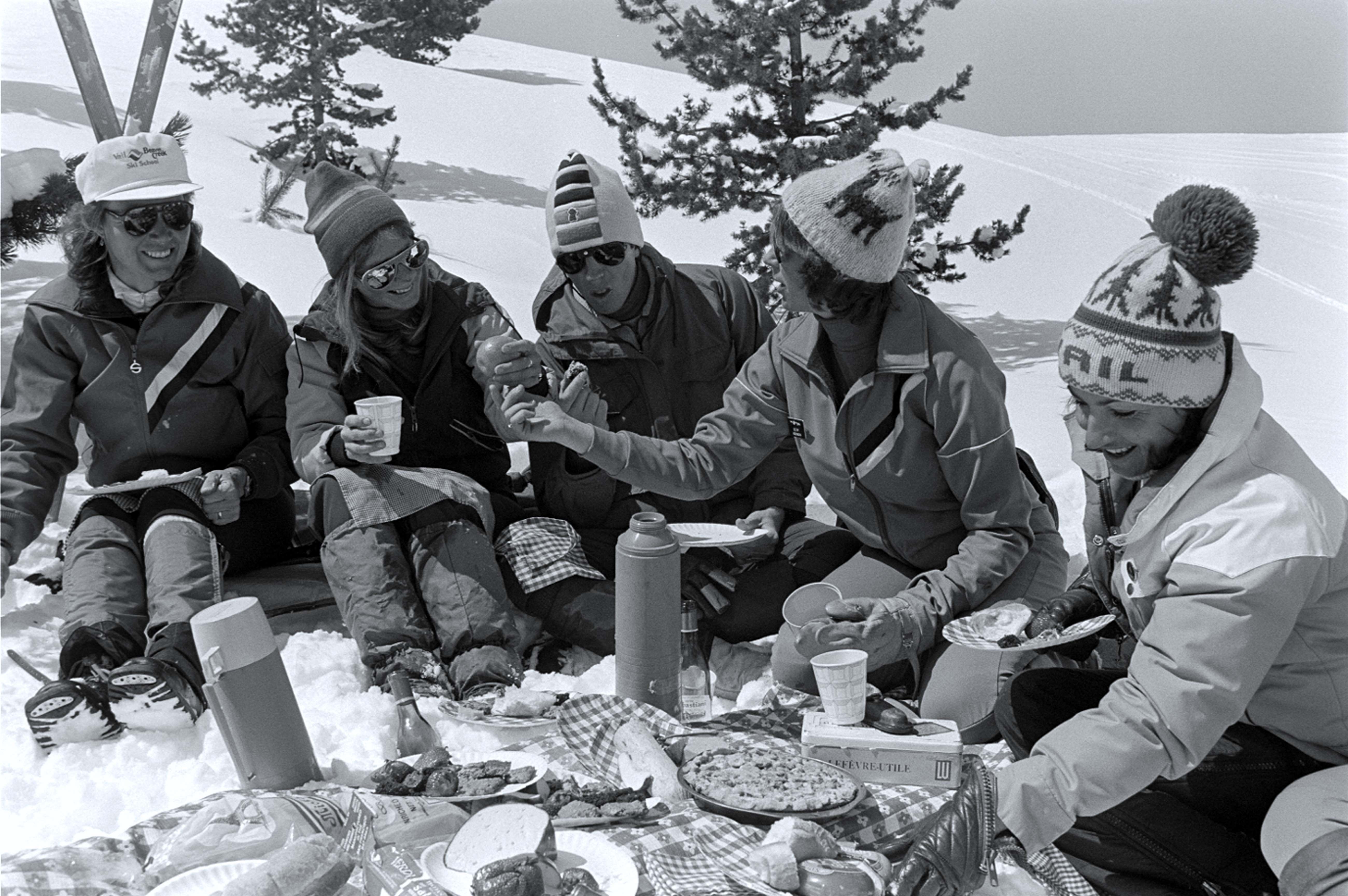 Our Story
Over 60 years of hard-won success serving communities across Colorado.
1962

Rod Slifer, ski instructor/Realtor, starts his one-man operation out of the lobby of the Lodge at Vail, selling properties for Vail Associates.

1968

Rod Slifer opens his own brokerage, Slifer & Company, on Bridge Street. As Vail grows, so do Slifer & Company and Vail Associates Real Estate.

1983

Jim Flaum, a real estate veteran and former Navy pilot, becomes vice president and managing broker of Vail Associates Real Estate.

1986

Harry Frampton and Mark Smith form East West Partners, the major force of the development of Beaver Creek Resort.

1988

Harry Frampton and Mark Smith open Frampton Smith Real Estate, concentrating on the newly-formed Beaver Creek market.

1994

The two top dueling powers of Vail Valley real estate merge, forming Slifer Smith & Frampton Real Estate.

2004

Opened offices in Summit County, the first located at 117 S. Main Street and Keystone Resort offices. Two more offices would be opened on Main St. in Frisco and 211 S. Main St in Breckenridge in 2013.

2019

SSF grows again with the acquisition of Palladium Properties, a boutique and independent luxury property brokerage firm based in Aspen and the Roaring Fork Valley. Palladium Properties founder, Krista Klees, joins Slifer Smith & Frampton as Executive Vice President and Managing Broker overseeing operations throughout the Roaring Fork Valley.

2020

Slifer Smith & Frampton Real Estate awarded development sales listing for the $600 million Snowmass Base Village, expanding its presence in the Roaring Fork Valley.

2020

SSF is a proud founding member of Forbes Global Properties, a luxury real estate marketing platform showcasing the world's finest homes and the stories behind them. Forbes Global Properties leverages the audience and worldwide reach of Forbes, one of the most trusted media companies for the last 100 years, to engage, inform, and delight buyers and sellers of luxury properties.

2021

Slifer Smith & Frampton Real Estate restructures leadership and Chris Lankhorst is promoted to Market President of Summit County. He is one of four Market Presidents: one in the Roaring Fork Valley, one in Summit County, one in the Vail Valley and one in the Front Range. This management change brings SSF even closer to the customers and the communities it serves.

2022

Slifer Smith & Frampton Real Estate acquires legendary Boulder Valley brokerage Colorado Landmark Realtors, expanding reach across the Front Range of Colorado. We also welcomed Orly Ripmaster from the Colorado Landmark team into her new position as Market President for the Front Range.
Testimonials
" We cannot say enough great things about Sheila and Steve . They were SO patient with us as we looked at 75 properties before finding our dream cabin in Fairplay. When we decided to sell it 3 years later and move to Breck.....they handled everything for us including details and issues that were not their responsibility. "
- Andy and Karen Cohen
" Sheila and Steve are great to work with, I highly recommend them, "
- M-Vestments LLC
" Steve and Sheila 'Jags are awesome and continue to be very helpful. "
- Liz & Mike Gallagher
" Steve and Sheila are uniquely amazing, deicated and caring! "
- Julie Tierney
" We would definitely use Steve and Sheila for our next real estate transaction. "
- Douglas Nelson & Carol Graham
" Dear Sheila, We visited our townhouse a couple of weeks ago and there to greet us were the fabulous house-warming gifts! We look forward to using the Rec Center passes and the restaurant gift certificate. The kids were thrilled to visit Bubba Gump's again. Not only did you find us a home that suited our needs perfectly, we feel you were pretty tuned in to our lifestyle as well. We look forward to having a lot of fun times in Breckenridge!! Sue, Rich, Jordan and McKenna "
- Sue & Rich Becks
" Sheila and Steve are outstanding to work with! They are professional, personable, thorough and very patient. We highly recommend them for any rea estate needs you may have. "
- Gary and Dale Hasselblad
" Awesome! "
- Karina & Alvis Saleneiks
" Last year you made the finding and purchasing of our first mountain home a wonderful experience. This year, your assistance and expert guidance in all of the details involved in moving to Summit County have proven to be invaluable. My entire family would like to thank you and wish you continued success with East West. "
- Gary, Brenda and Laura Jones
" "Sheila and Steve are great to work with, I highly recommend them" 8/20/2020 "
- M-Vestments LLC
" We would most definitely use Steve and Sheila the next time we list or purchase. "
- Peg and Marvin Pomerantz, MD
" We are elated with our new condo at the Village in Breckenridge. It has a great balance of location, amenities and value. When we first contacted you over a year ago we were doubtful that we could afford a nice vacation home. Well, it happened! You helped us evaluate many, many condos and townhomes before we finally chose this one. Unlike some realtors who will just show a few listings, you must have broken the record for the number of places you showed us! This helped us to determine what we liked and disliked and make an informed decision. We appreciate your integrity, patience and commitment to top-notch service. We felt you were being straightforward with us at all times. You could have pushed your own listings but instead were very objective in showing us different places and in advising us as to the pros and cons of each condo/townhome we considered. Your knowledge of Breckenridge and the real estate market was essential to our making a good decision. It was a plus to work with a husband-and-wife team; your skills complemented each other seamlessly, and you were always available. You steered us through a difficult negotiation in which the sellers had very little negotiating room. But you made it happen! The whole buying process went without a hitch - you were extremely helpful in making various arrangements and obtaining the information we needed. You went way beyond what one would expect real estate agents to do. And your cheerful and warm nature made it a delight to work with you. Thanks so much everything you've done to make this happen - we couldn't be happier! "
- Sarah and Ulises Llull
" Great people to work with! Truly dedicated to giving their best, making the real estate transaction process smooth and trouble free. Trustworthy, caring, honest, and thorough. They know the business well and perform their job diligently with professionalism. Thank you Sheila and Steve! "
- Catherine A Luc
" Sheila and Steve are the best! "
- Mike & Liz Gallagher
" Great team, recommend to all. Sheila and Steve understood what we needed from the get go, worked tirelessly to match us with the right property and make sure everything went smoothly, swiftly and without a hitch to the end. Can't thank you enough, guys! "
- G.B. and Ivy Heidarsson
" We have never had a more pleasurable experience buying a home than with Sheila and Steve. There were certainly challenges along the way but they never hesitated to offer guidance and intervene when needed. Much more than realtors, we are fortunate to call these two friends. I give them my highest recommendation for their professionalism, knowledge, and willingness to go far above and beyond our expectations. "
- Rev. Andy and LaDawn Bell
" Thank you so much for the great job!! You were so diligent in searching the listings and eventually finding the Tarn Landing condo, which is just what I was looking for. Your attention to all those details involved in the closing was invaluable,since I was here in New York. It was the smoothest closing I ever attended. Thanks again and hope to see you this winter on the slopes. "
- Carol Tschupp
" My wife and I recently purchased a home and we could not be more satisfied with everything that Steve and Sheila did for us. Their service, organization, communication, and attention to detail were fantastic. We would recommend Steve and Sheila without hesitation! "
- Greg Decker
" We love working with Sheila and Steve. Their expertise, love and knowledge of the community as well as attention to detail made our transaction seamless. They are wonderful to work with and wonderful people, period. They are perfect representatives of the Breckenridge real estate market and never stop working for their clients. Will always use Steve and Sheila to purchase real estate in Breck. "
- Laura and Andy C.
" Professional, Honest, right on with Pricing. Great communication and follow through. Easy to work with. Thank you "
- Ulco Visser
" Steve and Shelia are fabulous to work with. We have purchased two homes with their help in the past 12 years. Both instances, they were committed to finding the best fit for our family. The attention and service provided by the Jags is phenomenal. Couldn't be happier. Thank you Steve and Shelia! "
- Joanni & Greg Linton
" We would like to take this opportunity to thank you for your assistance in the purchase of our lot in Blue River. We enjoyed working with you. Your support during the entire process was appreciated and invaluable. First, I can't imagine anyone being more knowledgeable about the Breckenridge area than the two of you. Thirty years as a Breckenridge was evident. Your extensive knowledge and expertise was so useful in helping us narrow our search criteria. We especially appreciated your hard work during the search process. Steve's intense research and willingness to go the extra mile to ensure we had all the information we needed was so helpful to us in making our decision. Sheila's willingness to walk each lot from end to end was fantastic. Most of all, it was so reassuring to have two individuals committed to meeting our needs and ensuring we had the information needed to make the right decision for our family. Thanks again for your time and effort to make our dream come true. We appreciate all your hard work, patience and support. "
- Jeff & Leea Schneider
" Thank you for everything that you did for us on the purchase of our Dillon property! We are very excited to begin the next phase. Brian has begun to clear the land of dead trees and we are getting permits in place for well and septic. It's almost moving a bit too fast but....the reality is bringing excitement. We certainly look forward to many more trips to Colorado. Again, thank you for everything! "
- Jody
" Steve and Sheila are simply the best!  Knowledgable and so easy to work with.  Their team approach works very well and ensures that all your client needs are met.  They are are fun to work with and have a vast amount of experience they use to the client's advantage.   A 10 out of 10! "
- David and Mary Entrekin
" It was my realtors charming personality and determination to meet my needs that drew me in. "
- Ryan Medlock
" Sheila and Steve went above and beyond in their efforts to locate and finalize the purchase of my new home. They are both fantastic and would be the only Realtors I ever use. "
- Carol Tschupp
" Sheila and Steve were really fantastic to work with. I've bought and sold lots of property, so I know excellence when I see it. They understood our needs, communicated well and on time, and went above and beyond in helping us make a purchase when we couldn't always get to Breckenridge quickly enough. "
- Marilyn Walker
Previous
Next